David Wilcock: Says Inner Earth Civilizations May Come Out Into The World Very Soon
David Wilcock: It says that the inner Earth civilizations may come out into the world very soon. ufospain.es assures that in an interview on Coast to Coast AM, the author and researcher David Wilcock said that an alliance of ancient civilizations lives on Earth.
These ancient civilizations lived underground for a long time and were about to show the rest of the world what they had to offer.
Wilcock is certain that throughout our planet's long history, many advanced people, such as the Atlanteans, went underground to stay alive during times when our planet's surface was in chaos.
"In the end, they decided to stay in their new underground home."
People have talked about whether or not there are tunnels and underground passageways for hundreds of years. Ancient cultures around the world speak of these gates leading to whole new worlds deep below the surface of the planet.
The ancient peoples of Turkey seemed to have brought these stories to life by building huge underground cities like Derinkuyu, the largest ever found, near Cappadocia.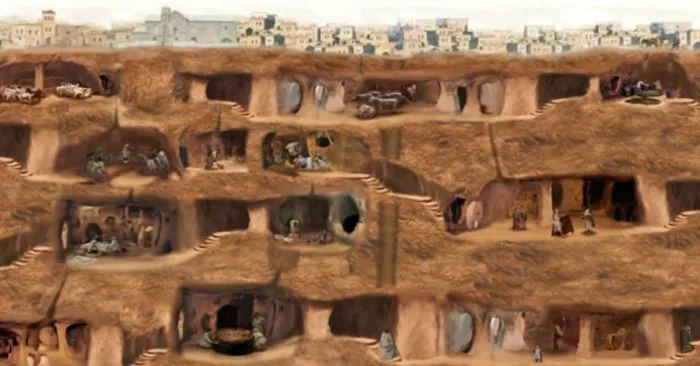 DERINKUYU UNDERGROUND CITY IS AN ANCIENT MULTI-LEVEL UNDERGROUND CITY IN DERINKUYU DISTRICT, TURKEY, WITH A DEPTH OF APPROXIMATELY 85 METERS (279 FEET). IT IS BIG ENOUGH TO HAVE HOSTED UP TO 20,000 PEOPLE ALONG WITH ITS LIVESTOCK AND FOOD STORES.
Wilcock believes that the US government knows this because he was found by accident while working on secret projects to build underground bases.
Wilcock said in the interview, "They have these tunnel boring machines that sometimes break in places where they shouldn't because there are people there."
Wilcock said, based on the testimony of contactee Corey Goode, that the relationship between beings inside the Earth and people who live on the surface and know about them has become more tense in recent years.
Wilcock said: "This military-industrial complex used to work with these beings and make deals with them. Now he wants to kill them."
Wilcock says that is why these Inner Earth Civilizations have banded together to deal with the biggest new threat in recent years. They also reach out to extraterrestrial beings in hopes of enlisting their help in fighting the forces trying to destroy them.
Wilcock also said that the two groups finally met after a long time of trying, and Goode was able to see the exchange.
"After the meeting, people from other planets made an impressive request." Wilcock said: "The people of Inner Earth walked out of there in shock." "As part of the reveal, they have been asked to tell us who they are."
If the undergrounds did as they were told, he thought, "I think we're going to find out that the undergrounds are much bigger and older than we thought."
David Wilcock is a professional teacher, filmmaker, and researcher of ancient civilizations, consciousness science, and new ways of thinking about energy and matter.
He is rewriting entire areas of science and leading a new history of humanity that includes highly advanced races of beings with whom we share the earth and space.